Administrator
Staff member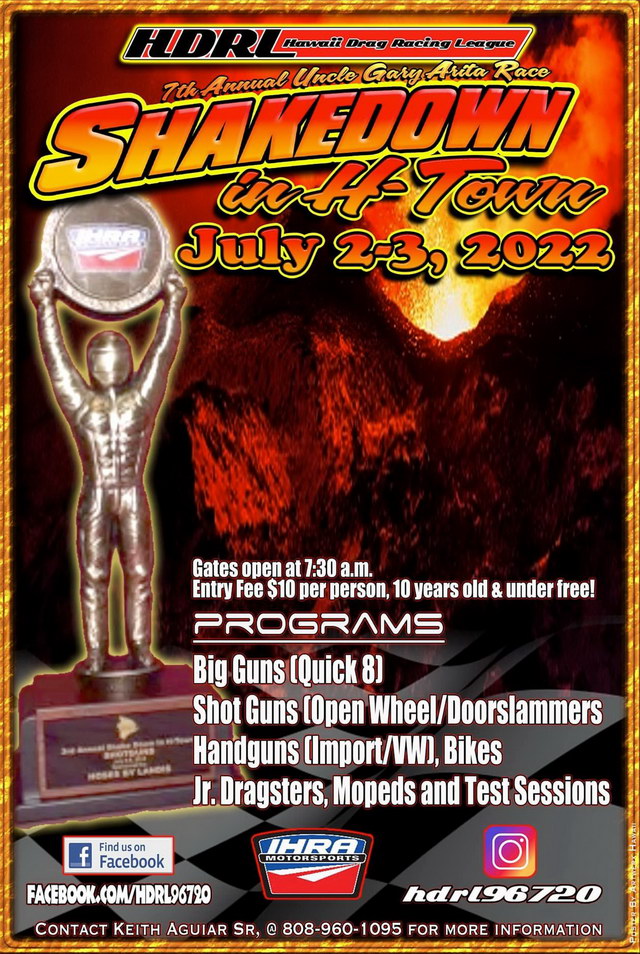 HDRL presents the 7th Annual Uncle Gary Arita Race "Shakedown in H-Town"
.
The Winner of this race will receive a IHRA Ironman!
.
IHRA Ironman trophy is offered to all IHRA member tracks. In the past, a sportsman racer could only win an Ironman if they traveled to a divisional or IHRA Drag Racing Series national event. Our upcoming race will allow racers to have an opportunity to receive the most sought-after prize in IHRA Drag Racing – the Ironman! .
.
Open to Spectators!
.
Tickets are available online for racers and spectators, please head over to our Instagram Bio and use link to purchase your tickets.Facebook here is the link
https://linktr.ee/hdrl96720
.
Saturday & Sunday
July 2nd & 3rd, 2022
.
Programs:
Big Guns (Quick
, Shot Guns (Open Wheel/Doorslammers), Hand Guns (Import/VW), Jr. Dragsters, Motorcycle Racing, Moped Racing, & Time Trials